Vacuum Pumps
Compiled by Terrence Thompson, Technical Editor
Product Descriptions
This vacuum pump product showcase covers the wide variety of roughing pumps, high-vacuum pumps, very-high-vacuum pumps, cryopumps as well as vacuum pumps used in R&D applications.

IDP-15 Dry Scroll Pump: Quiet, Clean & Reliable

The Agilent IDP-15 Dry Scroll Pump offers a peak pumping speed of 15.4 m

3

/h at 60Hz operation and 12.8 m

3

/h at 50Hz operation. The IDP-15's hermetic design makes it well suited for use with helium applications and rare gas applications. The vacuum space in the pump is completely isolated from the motor and bearings,

providing a clean gas path through the pump that eliminates any risk of oil or grease contamination. The IDP-15 uses a solid tip seal design that offers a long service life in most applications. The combination of the isolated design and the solid tip seal allow the IDP-15 to be better suited for applications which involve small amounts of condensable vapors such as water vapor. The single-sided scroll mechanism offers a quick and easy tip seal change as its basic maintenance. The IDP-15 is designed for extremely quiet (50 dBA) and low vibration operation that makes it ideal for use in laboratory settings and on analytical instruments such as mass spectrometers and electron microscopes. The AC single-phase motor accepts worldwide input voltages with a simple switch to set to either the high or low input voltage setting. An optional integrated inlet isolation valve closes the inlet of the pump immediately if power is interrupted to the pump for any reason.

TwisTorr 304 FS Turbomolecular Pump: High Performance, Innovation & Reliability

The Agilent TwisTorr 304 FS provides high pumping speed and high light gas compression in a compact, reliable, and energy efficient package. The innovative TwisTorr drag stages ensure optimal compression ratios for Hydrogen and Helium while reducing power consumption and permitting the use of smaller backing pumps.

The 304 FS incorporates Agilent Floating Suspension (FS), a breakthrough technology that guarantees optimal bearing working conditions to reduce acoustical noise and vibration, and to extend operating life. The TwisTorr 304 FS is ideally suited to provide high vacuum for demanding academic, research, and instrumentation applications.

Agilent Technologies, Vacuum Products Division Lexington, MA www.agilent.com/chem/vacuum Contact: Walter Stevenson Palmer (Steve), Manager, Marketing Communications, Americas Tel: 1-781-860-5426 or toll-free 1-800-882-7426 Ext. 5426 E-mail: steve.palmer@agilent.com

GV Oil-Sealed Vacuum Pumps

Atlas Copco's expertise in air compressors is now applied to vacuum pump technology. Atlas Copco now designs and manufactures its own vacuum pump systems with the same quality and reliability as those of Atlas Copco's compressors. With the new GV oil-sealed rotary screw vacuum pump,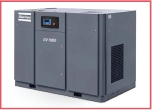 is a pump system for rough vacuum between 0.5mbar and 500mbar. The GV offers a reliable, efficient vacuum. At the heart of the new GV is an in-house designed, reliable screw element. In this operating pressure range, oil-sealed rotary screw technology offers the best performance at the lowest energy cost. Wih its modu- lating valve fitted at the pump inlet, the capacity can be matched to the actual demand. This concept not only minimizes the sys- tem's vacuum level fluctuations, but also operates the pump at the lowest possible energy point. The vacuum pump also has to stop/start less frequently, leading to less wear and maintenance and therefore increased reliability. The GV delivers capacities between 500 and 5000m3/h, making it suitable for many ap- plications. From printing and packaging to plastics, electronics, woodworking, bottling and canning, the GV delivers consistent and efficient vacuum. With its quiet operation, the GV can be installed close to the point of use but this technology also allows for remote installation as part of a centralized vacuum system.

Atlas Copco Airpower NV Antwerp, Belgium www.atlascopco.com Contact: Mark S. Taylor, Product Manager Tel: +44 (0)1743 359 979 E-mail: mark.s.taylor@uk.atlascopco.com

High Vacuum Pumps

Bid Service, LLC has been supplying fully tested and war- ranted vacuum pump and other equipment to the semiconductor and scientific community for over 30 years including vacuum pumps. Our 30-day money back policy has become the standard of the industry. Our reputation for quality and integrity is second to none.

Bid-Service LLC Freehold, NJ www.bidservice.com Tel: 1-732-863-9500 E-mail: sales@bidservice.com

CVC3000 detect Integrated Vacuum Controller

The new BrandTech Scientific CVC3000 detect combines the market leading CVC3000 vacuum controller and a chemically-resis- tant solenoid valve into a single integrated package,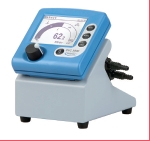 to provide ad- vanced two-point control for any stand-alone diaphragm vacuum pump from VACUUBRAND

®

or competitive units. The compact design is perfect for any lab setup with a large, easy to read display. The new "detect" feature al- lows the CVC3000 to automatically find the first boiling point with a rotary evaporator. The CVC3000 also allows the prepro- gramming of up to ten multi-step programs, bi-directional com- munication via RS232 serial port, and too many other features to mention here. Available in two models: one with a benchtop stand; the other for mounting on lab frames or ring stands. De- tails are available at www.BrandTech.com, or contact Customer Service at 1-888-522-2726.

BrandTech Scientific Inc. Essex, CT www.brandtech.com Tel: 1-888-522-2726 E-mail: info@brandtech.com

On-Board

®

IS Cryopump Systems

Brooks' intelligent On-Board IS cryopump systems leverage innovative high-efficiency cryogenics technology to provide unparalleled vacuum performance and energy efficiency. A patented distributed control system monitors and constantly ad- justs individual elements of the cryopump system

to maintain optimal system-wide vacuum performance for exceptional pro- cess consistency. On-Board IS cryopumps deliver highest uptime, best productivity, and lowest overall cost of ownership of any cryopump systems available today, backed by Brooks' highly responsive global service and sup- port network. Key features include a patented distributed control system monitors and constantly adjusts individual elements of the cryopump system to maintain optimal system-wide vacuum performance, delivering exceptional process consistency and the quickest regenerations in single and multi-pump configurations. Low consumption of energy and cooling water ensure no com- promise in vacuum performance.

Cryo-Torr

®

Cryopumps

Brooks' Cryo-Torr Cryopumps provide clean, reliable, highspeed pumping for critical vacuum process applications. For added flex- ibility, you can add your own custom- ized controls and supporting periph- erals to meet your specific application needs. Providing low operating costs and fast,

easy maintenance, these cryopumps deliver high reliability and bottom-line performance backed by responsive service you can count on.

PFC Fast Cycle Water Vapor Cryopump

This proven, reliable system significantly reduces pumpdown time and improves product quality by quickly removing water vapor from your vacuum process. Brooks Polycold Systems' PFC provides high speed, in-chamber water vapor cryopumping,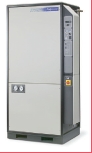 with speeds up to 200,000 l/s, vacuum levels to the 10

-

10

Torr range, temperatures of -100°C to -150°C and heat removal to 3600W. The PFC delivers true fast cycle performance – reaching base pressure faster and defrosting within minutes to return your chamber to action.

Brooks Automation, Inc. Chelmsford, MA www.brooks.com Contact: Barbara Culhane, Corporate Marketing Manager Tel: 1-978-262-2400 E-mail: barbara.culhane@brooks.com

Turbo TM 1100-2200 A Turbomolecular Vacuum Pumps

Turbo is the new range of turbomolecular vacuum pumps from Busch. Busch Turbo pumps are designed to withstand heavy industrial use. They can handle high gas loads and are unaffected by accidental air in-rushes. Turbo vacuum pumps have an innovative ceramic bearing design that is oil free, contamination free and requires no preventive maintenance.

The bearing design also allows the pump to be mounted in any position and maintain its vacuum performance. Busch offers a compact, comprehensive range of turbomolecular vacuum pumps and systems for industrial uses, with truly integrated electronics mounted within the pump body. The Turbo compact rotor design has the highest performance and throughput combined with a small footprint. The integrated molecular drag technology allows higher foreline pressures resulting in high system efficiency and requiring smaller backing pumps. All the Turbo series turbomolecular vacuum pumps use permanently lubricated ceramic ball bearings with a mean time to failure (MTTF) over 200.000 operating hours.

Rangu DF 1000-2800 A Diffusion Vacuum Pumps

Rangu is the new range of diffusion vacuum pumps from Busch. Busch Rangu diffusion vacuum pumps are designed to withstand heavy industrial use and can handle high gas loads. The Rangu range has an innovative multi-stage jet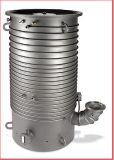 design providing stable vacuum performance even under difficult flow conditions. It also provides industry-leading performance in reducing the potential for oil back streaming to prevent process contamination. Busch offers a comprehensive range of diffusion vacuum pumps and systems for industrial uses. The Rangu diffusion vacuum pump construction consists of an oil boiler connected to a central multi-stage jet assembly. The heated oil is ejected from the jet assembly at supersonic speeds and the process gas molecules are entrained in the oil jet flow and transferred through the pump body by the heavier oil molecules' momentum. This process moves the gas molecules from the low-pressure inlet flange to the foreline vacuum port of the diffusion pump, where the oil is condensed and returned to the boiler. The backing pump then removes the process gas molecules. The Rangu diffusion vacuum pump's innovative multi-stage jet design results in the utmost stability of the pumping operation. The design is especially suited for high transient pressures typically found when pumping down a chamber without the associated risk of oil back streaming. All Rangu diffusion vacuum pumps benefit from a robust long life heater design, which ensures stable and reliable performance under widely varying operating conditions.

Zebra RH 0006-0030 A Two-Stage Rotary Vane Vacuum Pumps

Robustness and reliability in operation are the outstanding properties of the oil-lubricated Zebra rotary vane vacuum pumps. Over two million Busch rotary vane vacuum pumps are in use every day worldwide in industrial applications.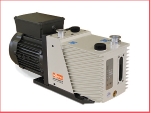 With the new Zebra series Busch now also offers two-stage rotary vane vacuum pumps for applications in the medium vacuum range. For over 50 years, oil-lubricated rotary vane technology has been continuously developed and improved by Busch, with a constant focus on both economy and reliability in operation. High pumping speed efficiency and energy-efficient operation are the positive results of this development. Zebra rotary vane vacuum pumps are distinguished by a high pumping speed in the low-pressure ranges resulting in quick pump-down times. Model specific vanes are designed to guarantee long uptimes and the built-in oil shield ensures excellent oil separation for clean exhaust air. Built using the proven, robust, single-stage design technology, the Zebra two-stage rotary vane vacuum pump has a technically simple construction for generating improved end pressure. The consistent, high vacuum level achieved in continuous operation is guaranteed by forced oil lubrication, correct selection of component materials and precise, state-of-the-art manufacturing techniques. The built-in oil shield ensures clean and oil-free exhaust air. The integrated gas ballast valve, allows for large amounts of vapor to be processed, while maintaining an excellent vacuum level. An oil driven non-return valve mounted in the inlet flange opens when the pump is operating and prevents air from flowing back into the vacuum chamber by closing when the vacuum pump is switched off.

Busch USA Virginia Beach, VA www.buschusa.com Tel: 1-757-463-7800 E-mail: info@buschusa.com

Turbo-60G Oil-Free Pump Package

The DRIVAC Inc. Turbo 60G is a compact, air-cooled, portable turbopump package. This fully integrated 35lb. package includes a 60 L/sec. hybrid turbomolecular pump, an oil-free backing pump, automatic valving, and a control module.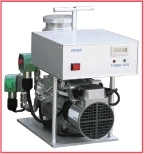 Operation is automatic and interlocked, and the TURBO 60E is not adversely affected by operator error or power failure. Vacuum in the user's system remains undisturbed in power failure situations. The footprint is 8" × 11". Modular construction permits direct mounting of the turbopump to the system flange, and remote mounting of the control module. The rugged, industrial-grade oil-free backing pump has a mean-time-between-failure rating of 25,000 hours for the rotating mechanisms. A wide selection of standard inlet flanges is available. The hybrid turbopump can be directly mounted onto the user's system flange. This results in substantially increasing the net high vacuum pumping speed at the system inlet. The exhaust pressure of the hybrid pump is in the viscous flow range. This permits remote mounting of the backing pump without increasing pumpdown time. The oil-free backing pump used in all Hovac packages eliminates the requirement of venting the turbopump in power-fail situations. When the power goes off, the normally-closed solenoid valve isolates the turbopump from the backing pump. When power resumes, a time-delay relay keeps this valve closed until vacuum is re-established in the foreline. The Vacuum Monitor sensor and circuit incorporated into the TURBO 60 package automatically controls operation of the hybrid turbopump. This prevents extended operation of the turbopump at high pressures. This helps to maintain a lower operating temperature of the turbopump thereby enhancing long-term reliability.

DRIVAC Inc. Furlong, PA www.drivac.com Contact: Dave Hoke, President Tel: 1-215-345-7044 E-mail: drivac@verizon.net

Ion Pumps— Manufactured and Rebuilt

Duniway Stockroom Corp. manufactures and rebuilds all ion pumps in our Mountain View, CA facility.

•

New Complete line of Duniway Ion Pumps (10 l/s to 400 l/s)

•

New and Rebuilt Varian-Style Classic and Perkin-Elmer style Ion Pumps(1 l/s to 500 l/s)

•

Various configurations for pumping virtually any gas

•

Customized ion pumps for specialized applications Ion Pump Control Units:

•

New Terranova Ion Pump Control Units with digital display, process control, computer interface, single or dual output

•

New Duniway Analog Ion Pump Control Units and Pressure Relay

•

Custom controls for specialized applications

•

Rebuilt Ion Pump Control Units Products and Services:

•

Ion Pump Rebuilding Service: Each pump is processed in our ion pump manufacturing facility and receives the same treatment as our newly manufactured pumps.

•

High-Voltage Cables

•

Spare Parts such as Magnets, High-Voltage Feedthroughs, Elements, Etc.

Mechanical Pumps, Dry Pumps, Filters/Traps, Pump Rebuilding Kits, Pump Parts and Oils

Duniway Stockroom Corp. supplies a complete range of Mechanical Pumps,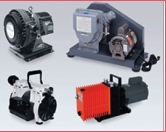 Supplies, Accessories and Rebuilding Service. Our products and services include:

•

New Mechanical Pumps, New Dry Pumps, Filters & Traps,

•

Pump Rebuilding Kits, Mechanical Pump Parts and Oils,

•

Rebuilding Service and Rebuilt Pumps. Duniway Stock-room's dedicated rebuilding shop has over 35 years of experience, giving us unequalled experience in the repair of oilsealed rotarvane pumps, dry scroll pumps, rotary piston pumps, and roots-style pumps and blowers. Our rebuilt pumps perform as well as our new pumps, and we stand behind our work with a full one-year warranty on defective parts and workmanship.

Turbo Pump Services and Supplies for Alcatel, Edwards, Leybold, Pfeiffer, Varian

Duniway Stockroom Corp. provides a a full range of Turbo Pump services and supplies for Alcatel, Edwards, Leybold, Pfeiffer, Varian. This includes rebuilt pumps, controllers & cables, rebuilding services and new turbo pump accessories and oils.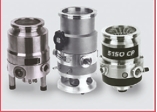 Duniway Stockroom rebuilds a large number of oil-lubricated and permanently greased ceramic ball bearing-suspended pumps, as well as select magnetically levitated pumps. Repair of your pump involves disassembly, cleaning, replacement of highspeed bearings, and dynamic balancing of the rotor. All turbo pump rebuilds come with a full one-year warranty on defective parts and workmanship.

Duniway Stockroom Corp. Mountain View, CA www.duniway.com Tel: toll free 1-800-446-8811 or 1-650-969-8811 E-mail: info@duniway.com

EV-M Series Dry Vacuum Pumps

Ebara's EV-M Series Dry Vacuum Pump is designed for medium to harsh process applications with models ranging from 70~2,830 CFM pumping speed. EV-M Series will contribute to product throughput with its stable pumping operation for Middle Harsh &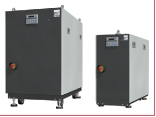 Harsh applications and provides longer-term maintenance cycle. EV-M Series power consumption is the lowest in the industry with up to 50% reduction in power compared to similar harsh application pump. Optimization of the rotor arrangement achieves both of reduction of power consumption and high temperature gas condition for sublimating process gases. High torque motors generate torque as powerful as manually rotated by hand for pump start up. The EV-M resists corrosion with Ni-Resist rotors and casing materials.

EBT Series Turbomolecular Pumps

The EBARA Technologies, Inc. EBT Series of turbomolecular pumps are a highly efficient cost effective solution to your high vacuum pumping needs The EBT Series turbomolecular pumps offer ceramic bearings,
which provides for a clean, reliable vacuum for today's high-tech manufacturing in the semiconductor, thin film, and photovoltaic industries. The EBT Series pumps can be mounted in any orientation and have tuning-free half-rack controllers requiring no battery backup. The EBT Series offers three major types of turbomolecular pumps cooling: naturally-cooled, fancooled and water-cooled. EBARA also offers the EBT turbomolecular pumps with an optional On-Board controller.

EBARA Technologies, Inc. Sacramento, CA www.ebaratech.com Tel: 1-916-920-5451 or 1-800-535-5376 E-mail: jmakin@ebaratech.com

STP Magnetically Levitated Turbopumps

Edwards' STP maglev turbopumps are renowned for their outstanding performance. With over 120,000 pumps sold and more than 20 years manufacturing and design experience with high-tech turbopumps, our reputation as market leader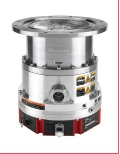 is unsurpassed. Whether for batch or large surface area coating, installing an Edwards STP maglev turbopump on your coating process ensures worry-free pumping, with exceptional performance and long-term reliability. Their compact size saves space and makes for easy installation. The multi-axis magnetic bearing system is used to suspend the rotor during operation, enabling mounting in any orientation and ensuring there is no risk of contamination while minimizing noise and vibration. The advanced range of STP maglev turbopumps incorporates a built in diagnostic capability that provides real-time information regarding pump heath and rotor balance preventing unforeseen maintenance problems, thereby increasing process uptime. Edwards energy saving technologies are incorporated into the design phase of our product development to ensure reduced energy consumption with no compromise on quality or performance, reducing power consumption by up to 90% at ultimate compared to other technologies. The advanced high throughput STP maglev turbopumps will achieve fast pump down to base pressure and speeds up to 4500 l/s. Rapid start up and shut down times combined with controllable pumping speeds and throughput, provide true process flexibility.

GXS Industrial Dry Screw Pump

Edwards GXS range incorporates our unique screw technology with a world leading high efficiency drive to achieve excellent vacuum performance and low running costs. With advanced temperature control,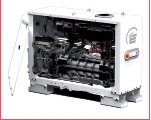 low maintenance and long service intervals, the compact and highly intelligent GXS is our most robust and economical vacuum pump for applications such as vacuum coating systems for glass, precision optics, polymer films, and reflective components. GXS advantages are significant. They are fast with reduced pump down times with an ultimate vacuum of 5 × 10

-

4

mbar. They are robust with reliable operation in harsh industrial applications. The GXS is intelligent using its on-board controller with extensive communication and automated control capabilities. It is economical, an affordable capital investment with low cost of ownership. Environmentally, it is smooth, quiet running with low power and utilities consumption.

ES Single Stage Oil Sealed Rotary Vane Pump

The Edwards ES single stage oil sealed rotary vane pump has the following advantages: Enhanced performance with class leading ultimate vacuum level and extended operating pressure range: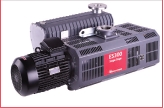 •

Suitable for a wider range of industrial applications, including good water vapour handling

•

Runs cooler than comparable pumps, giving longer oil lifetime-low cost of ownership

•

Minimal oil emission, environment friendly

•

Quieter than most comparable single stage rotary vane pumps Stability:

•

Perfectly stable vacuum performance, with no pressure fluctuations

•

Optimised oil return system - improved product quality with consistent process results

•

Combined ISO/BSP connection, easily serviceable on site

•

In-built ISO and BSP connections - ease of integration

•

Easy oil & filter changes - Easy to maintain

•

Can be serviced on site by the user - Higher productivity Flexibility:

•

Use individually or with mechanical booster pumps, for a wide range of applications

•

Fully assembled package with EH boosters - suits a variety of performance requirement, simple and easy

Edwards Vacuum Sanborn, NY www.edwardsvacuum.com Tel: 1-866-484-5218 E-mail: info@edwardsvacuum.com

MODULAR D80 Twin-Stage Rotary Van Pump with Oil Bath Seal

Galileo TP USA The MODULAR D80 is a twin stage rotary van pump with oil bath seal. Thanks to its design, it is suitable for pumping neutral or slightly corrosive gases. The main features are that all parts

and components in direct contact with the fluid are alloy copper free; all materials are carefully selected for longer life; it is equipped with an high capacity gas ballast for pumping out all the condensable vapors; all the pump parts are fully interchangeable; and it has been designed for maintenance: low number of gasket and quick disassembly and reassembly. The pump operates with force fed lubrication, provided by an auxiliary gear pump driven by the main rotor itself: thanks to this, the proper lubrication is guaranteed in every working pressure condition. The oil circuit is designed with a forced filtering for guarantee the maximum operation with minimal maintenance: anyway, the replacement of the cartridge filter is easy and fast. Oil refilling and changing are also facilitated by the easy access to the dedicated inlet. The entire functional block works inside the oil contained in the casing: this guarantees not only a proper and continuous lubrication of all the motion devices, but also a perfect sealing of the discharge valves, facilitates heat dissipation and reduces operating noise.

Galileo TP USA Greenville, SC 29615 www.galileotp.com Tel: 1-864-288-1025 E-mail: info@galileotp-usa.com

Vacuum Pump Solutions for OEMs

As a longtime leader in pressure and vacuum products for the OEM market, Gardner Denver Thomas Inc. draws on nearly 50 years of technological strength. The knowledge gained working with literally thousands of customers and applications, coupled with our unmatched investments in research and development, combine to make Thomas a unique resource for OEMs the world over. Within this catalog you will find detailed specifications for hundreds of standard Thomas products. It is a scope unmatched by any other company in the pressure and vacuum business. Given this, it may seem surprising that a majority of the pumps and compressors sold by Thomas are not standard at all. Instead, they are typically customized to meet application requirements for envelope size, mountings, electrical connections, service life, output characteristics, and more.

Gardner Denver Thomas Inc. Sheboygan, WI www.thomaspumps.com Tel: 1-920-457-4891 E-mail: td.usa@gardnerdenver.com

HVC Series Double Stage Rotary Piston Vacuum Pumps—18 to 960 CFM

HullVac Pump's Double Stage Rotary Piston Vacuum Pumps feature the next generation of vacuum pump technology. If micron range ultimate vacuum and high reliability is required, HVC Series Vacuum Pumps are an excellent choice. Ruggedly constructed from chemical resistant cast iron,

HVC series vacuum pumps feature hardened shafts and Viton

®

shaft seals. Our rotary piston design and low rotational speeds reduce wear. Replacing a single stage pump with a compound pump increases vacuum system performance by reducing pump down time and base pressure. When low base pressure is required, a less expensive, lower capacity compound pump can equal the performance of larger, single-stage pumps. Features include a double stage design, a second stage that enhances capacity below 250 microns and allows full gas ballast operation while maintaining micron range blank off. Bearing life is enhanced by isolating them from harmful process grit and solvents. No center wall bearing enhances reliability. The three-chamber design provides exceptional balance. Pumps operate with minimal vibration sitting on any flat surface. Heavy duty studs, springs and wear plates are mounted to hardened steel seats designed to prevent broken springs from falling into the pumping chamber. Steel construction enhances safety and durability. A large diameter glass site port with stainless steel bezel and o-ring seal makes checking oil level and condition easy. An oil stream splashes onto the site port ensuring easy verification even when oil is opaque.

HullVac Pump Corporation, Dekker Vacuum Technologies Michigan City, IN www.hullvacpumps.com Tel: 1-219-861-0661 E-mail: info@hullvacpumps.com

Diaphragm Pump Provides Adjustable Vacuum Performance in Lab

KNF Neuberger's N 920 KT.29P diaphragm vacuum pump provides lab technicians with adjustable vacuum performance, without the need for lubricating oil or recirculating water. The standalone pump provides quiet function with long product life in myriad laboratory applications,

ranging from challenging rotary evaporation to simple filtration. In addition to N 920 KT.29P's adjustable vacuum performance, it delivers deep end vacuum up to 1.5 Torr, and an exceptional flow rate of 20 L/min. Its superior chemical compatibility makes it ideal for use with a wide variety of solvents. Finally, this standalone pump thrives in labs with green initiatives, as it provides oil- and water-free operation across its lifetime. Oil-free operation eliminates the need for regular oil changes and disposal of contaminated water and pump oil, and negates on-going maintenance – saving both money and time in the lab.

Vacuum Diaphragm Pumps

KNF vacuum pumps are engineered to deliver the highest flow rate of any electrically operated diaphragm pump. These powerful pumps offer oil-free operation without risk of medium contamination and can be equipped with a double diaphragm system for increased safety critical when handling valuable

or dangerous gases. Typical applications include air and gas sampling, vapor recovery, and analytical instrumentation for the chemical, nuclear, hydrocarbon processing, and petrochemical industries, among others. All pumps can be customized to meet application requirements. Versions can be supplied with explosion-proof motors for compliance with ATEX and Class 1 Division 1 Groups C and D hazardous locations; corrosion-resistant models can be developed to withstand harsh environments; specialized leak-tight capabilities can be enhanced; and a wide range of available pump materials can be specified to expand application potential. Depending on model, these pumps can achieve flow rates up to 300 L/min (10 SCFM), maximum vacuums up to 29.3 in. Hg, and maximum pressures up to 90 psig. They can be modified to exhibit significantly low leak rates ranging from 6 x 10

-

3

mbar l/s (standard models) to 6 × 10

-

6

mbar l/s (double-diaphragm versions). Their cast aluminum compressor housing imparts optimized rigidity and stability and use of a heavy-duty motor with sealed ball bearings contributes to smooth-running and quiet operation.

KNF Neuberger, Inc. (USA) Trenton, NJ www.knf.com Tel: 1-609-890-8600 E-mail: knfusa@knf.com

New Vacuum Pump Selection Guide

Kurt J. Lesker Company

®

offers one of the most comprehensive ranges of vacuum pumps available from any single supplier. KJLC

®

represents many of the finest vacuum pump manufacturers in the world (Pfeiffer Vacuum,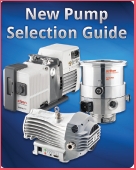 Edwards Vacuum, Oerlikon Leybold Vacuum, Agilent Technologies, Shimadzu Vacuum and many more). KJLC is dedicated to being your primary vacuum pump supplier by offering an extensive range of vacuum pumps suited for coarse to UHV pressure ranges. KJLC's wide variety of vacuum pumps include: Diaphragm, Rotary Vane, Scroll, Rotary Lobe, Screw, Turbomolecular, Diffusion, Cryogenic, Ion pumps and more. KJLC's unbiased approach with customers makes it easy whether purchasing a vacuum pump based on manufacturer, technology, price, or performance. KJLC makes purchasing a vacuum pump easy with our online shopping cart and we stock many popular makes and models for immediate delivery. KJLC has recently launched the Vacuum Pump Selection Guide tool on our website. The Selection Guide is a user-friendly tool that assists customers in selecting the perfect vacuum pump to meet their specific requirement. This tool gives users the opportunity to search for a pump based on criteria that are most important to them and their process: vacuum range, pumping speed, pump type, flange size, manufacturer, and more. Visit: www.lesker.com/PumpSelectionGuide to try it out.

Vacuum Services Division

The Kurt J. Lesker Company

®

's Vacuum Services Division can help make servicing your current pumps quick and easy. The Kurt J. Lesker Company has knowledgeable OEM trained technicians,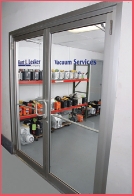 an expansive spare parts inventory, and turnaround times of less than a week for most pumps. KJLC

®

can service a wide variety of pumps including rotary vanes, rotary piston, roots blowers, turbo pumps, diffusion pumps, and diaphragm pumps. We can even make shipping easy by coordinating pump pick up and providing you with special crates for most pumps under 25 CFM. We also offer a large inventory of remanufactured pumps that have been fully serviced and come with a full 12-month warranty. Please visit our website for an up-to-date listing of all our remanufactured pumps.

Kurt J. Lesker Company

®

Jefferson Hills, PA www.lesker.com Tel: 1-800-245-1656 or 1-412-387- 9101 E-mail: pumps@lesker.com or vacuumservices@lesker.com

W2V Two-Stage Rotary Vane Vacuum Pump

Laco's W2V Series two stage oil sealed rotary vane vacuum pumps feature a rugged, two-stage, oil sealed design and are capable of pumping speeds from 3.5 cfm to 53 cfm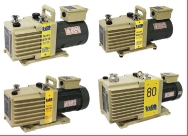 and an ultimate vacuum of 10

-

3

Torr or 29.9in Hg. Lightweight, quiet, and compact, they feature an anti-suckback valve and gas ballast knob, quick disconnect ISO/KF fittings for inlet and outlet, and are ideal for a variety of applications. The W2V pumps are low cost replacements for Varian, Leybold, Pfeiffer, Edwards or Alcatel two stage rotary vane pumps. They are well-ventilated, cool running pumps that minimize oil backstreaming and thermal degradation. The positive oil feed system provides optimal pump lubrication. The rugged, well-known design makes it easy to maintain with low operating costs. Single-phase motors are available for either 120 or 220V with a switch.

LACO Technologies, Inc. Salt Lake City, UT www.lacotech.com Tel: 1-801-486-1004 E-mail: info@lacotech.com

Dual Sorption Roughing Pump Assembly

MDC's sorption roughing pumps, or sorption pumps, are used for pumping systems from atmospheric pressure to a pressure of approximately 10

-

2

Torr. They rely on the dispersion forces existing between a gas and a surface to bind gas molecules on chilled surfaces inside the pump,

i.e., they pump by cryosorption. Sorption pumps typically consist of a cylindrical canister or body that is filled with an adsorbent material. The pump body and internal cooling fins are specially designed for maximum heat transfer. The pump neck and flange are made of stainless steel. The pumps are mounted and supported by the flanges and since stainless steel is a poor thermal conductor frosting of adjacent components is minimized. Sorption pumps need liquid nitrogen to operate and, as with any capture pump, they have to be periodically regenerated. Sorption pumps are very clean non-contaminating roughing pumps and are ideal for low throughput applications. They are used in conjunction with getter pumps, ion pumps, or mechanical cryopumps. It has a 1×10

-

3

Torr vacuum level, is an economical roughing source with no moving parts. It has vibration free operation with heat regeneration and a positive pressure safety vent. Multiple pump capability is available and it has a clean and non-contaminating operation.

MDC Vacuum Products LLC Hayward, CA www.mdcvacuum.com Tel: 1-510-265-3500 E-mail: sales@mdcvacuum.com

A New Dimension In Turbo Molecular Pump Engineering - TURBOVAC i

The new Oerlikon Leybold Vacuum TURBOVAC i product line offers the highest performance for a wide range of applications. With an additional compression stage, the TURBOVAC 350 i and 450 i are particularly well suited for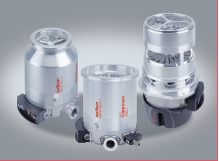 ultra-high vacuum applications offering a pumping speed for light gases which is up to 60% above that of comparative products, and a compression level which is approximately 100 times higher compared to products of the previous generation. The Rotors and Holweck stages have been optimized with the result being excellent vacuum performance and a previously unattainable pumping speed. This accentuates pumping especially with light gases. Oilfree hybrid bearings with lifetime lubrication are extremely reliable and durable making regular maintenance by way of oil changes superfluous. The bearing system ensures low vibration and low noise operation – thereby being less demanding with respect to applications that are sensitive to vibrations. The ceramics ball bearings are replaceable on-site should this be required. The innovative thermal design of the TURBOVAC i ensures optimum cooling of the bearings. To protect the bearings against critical gases or particles, all pumps have been equipped with a purge gas connection. In order to keep installation, operation and maintenance as simple as possible, the TURBOVAC i is equipped with a rotatable vacuum flange connection, integrated drive electronics with direct 24/48 V DC supply as well as a flexible communication interface with USB, RS 485 and digital I/O ports. Additional interface options are available upon request.

Oerlikon Leybold Vacuum USA Export, PA www.oerlikon.com/leyboldvacuum Contact: Brett Rock Tel: 1-724-327-5700 Ext.558 E-mail: brett.rock@oerlikon.com

DRYVAC

®

Dry Compressing Screw Vacuum Pumps

The DRYVAC

®

series dry-compression vacuum pumps by Oerlikon Leybold Vacuum have been designed to meet the special needs of applications in Industrial Coatings, Photovoltaic Production, Heat Treatments and Metallurgy and other Process Industry applications.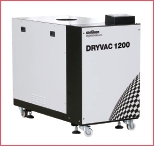 DRYVAC has evolved from one design platform and is comprised of models 450, 650, 1200 and 5000. Multiple pumping system combinations are also possible for gaining increased pumping speeds and vacuum levels by incorporating the RUVAC

®

line of vacuum boosters. DRYVAC features include improvements in leak tightness, energy efficiency and physical stature over competitive brands. Single pumps can achieve 7.5 × 10

-

3

Torr vacuum and over 2,900 cfm nominal displacement. The DRYVAC line is an environmentally friendly alternative to oil-sealed rotary piston and vane pump style vacuum pumps. With no lubricating oils contained in the pumps' compression stage, DRYVAC offers an improved operating environment with no oil emissions, reduced maintenance, with less down-time and disposal steps resulting in lower operating costs for our customers. Visit www.leyboldchampion.com for more details.

Oerlikon Leybold Vacuum USA Export, PA www.oerlikon.com/leyboldvacuum Contact: Mario Vitale Tel: 1-724-325-6565 E-mail: mario.vitale@oerlikon.com

Cryo-Plex 8LP Low Profile Cryo Pump with 8 Inch Aperture

Proven cryo pump technology in a low profile, the Oxford Instruments Austin Cryo-Plex 8LP is designed for space-constrained applications. The two-stage cold head design (Gifford/ McMahon principle) captures water vapor and gasses at high pumping speeds,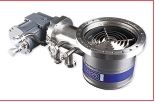 resulting in reliable oil-free high and ultra-high vacuums. The Cryo-Plex 8LP cryo pump is optionally available with an enhanced array to improve argon and hydrogen adsorption and/or an optional threephase motor to reduce vibration – features especially beneficial for semiconductor tool applications. The Cryo-Plex 8LP cryo pump has a body/flange orientation mounted 90 degrees from the centerline of the pump, shortening the profile height over 66% from our standard Cryo-Plex 8 cryo pump design. Cryo-Plex 8LP inlet flange configurations conform to industry standard ANSI, ISO and Conflat

®

and full UHV specifications, allowing seamless integration into existing process infrastructures and easy exchange with other OEM cryo pumps. The Cryo-Plex 8LP cryo pump can be configured in constrained dimensional spaces and accessorized to support a wide range of demanding research and production applications. This cryo pump's design has the flexibility to operate safely in any mounting position for industry-standard or custom designs. Silicon diode sensors measure temperatures at second stage (dual diodes are also available).

Cryo-Plex 16 Cryo Pump

Oxford Instruments' Cryo-Plex 16 cryo pump is a high capacity cryogenic vacuum pump with proven two-stage cold head design (Gifford/McMahon principle) that captures water vapor and gasses at high pumping speeds, resulting in oil-free, high and ultra-high vacuums.

Cryo-Plex 16 is designed for large chamber vacuum applications where reliability, performance, and capacity are critically important. A single Cryo-Plex 16 meets the capacity and performance requirements of many large chamber applications. Single-pump solutions simplify installation and maintenance, improve efficiency and lower total cost of ownership, making Cryo- Plex 16 a preferred solution for box-coating systems, space simulation chambers and electron beam coating systems. Cryo-Plex 16 inlet flange configurations conform to industry standard ISO and CVC specifications, allowing seamless integration into existing process infrastructures and easy exchange with other OEM cryo pumps. A complete line of accessories supports flexible configurations to ensure reliability and maximum performance. Cryo-Plex 16 can be safely mounted in any orientation for industry-standard or custom designs. Silicon diode or hydrogen-vapor-bulb (HVB) sensors measure temperatures at second stage to help control the regeneration process (dual diodes are also available).

Oxford Instruments Austin Austin, TX www.oxford-instruments.com/austin Tel: 1-800-611-8871 E-mail: cryo-sales@oxinst.com

Compact, Maglev Turbomolecular Pumps

The Pfeiffer Vacuum ATH-M magnetically levitated turbopumps are optimized for high gas throughput at high operating pressures for all process gases. These pumps require no scheduled maintenance, and offer high resistance against particles, aggressive media, vi- bration, and shock. Standard and heated versions are available as well as versions with corrosion resistant coatings.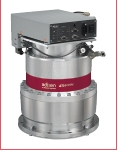 From 500 to 3200 l/s, the Pfeiffer Vacuum ATH-M pumps are available with IP54 compliant integrated drive electronics or external drive electronics and can be installed in any orientation. Applications include: vacuum coatings, semiconductor fabrication, as well as a variety of uses in the R&D and industrial vacuum markets.

Large HiPace

™

Turbopumps for High Performance and Reliability

Pfeiffer Vacuum HiPace

™

turbopumps are available in pumping speeds from 1000 to 2000 l/s. They feature a new rotor design that reduces run-up time by 50% and provides high gas throughput for light (H

2

,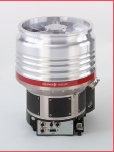 He) and heavy gases (Ar, CF

4

). The use of aluminum housing and innovative materials makes this turbopump 40% lighter in weight and improves the service life to four years between bearing changes. Integrated drive electronics reduces the need for bulky and costly cabling. The advanced rotor design and precise sensor technology of HiPace

™

turbopumps offer the highest level of safety in the market, including IP54 and SEMI S2 protection classes. HiPace

™

is available in both standard and corrosive models, making them ideal for use in semiconductor applications where particulate contamination, high gas loads and corrosive gases are common. In addition, HiPace

™

is suitable for photovoltaic coating, industrial applications such as brazing furnaces, general sputter coating, and coating of architectural glass and ophthalmic lenses.

Reliable, Two-Stage DuoLine

™

Rotary Vane Pumps

Pfeiffer Vacuum two-stage Duo-Line compact rotary vane pumps are distinguished by a newly developed pump system and optimized cooling. These changes have a significant impact on the service lives of the pumps.

The long maintenance intervals, the energy-efficient motors and the optional oil return lower the operating costs to a very low level. The integrated, hydraulically controlled high-vacuum safety valve increases operational reliability. The reduced footprint, lighter weight and placement of the vacuum connections on its top side guarantee the pumps' easy system integration. The Duo-Line pumps are offered with a conventional radial shaft sealing ring or with a magnetic coupling. The innovative drive concept hermetically seals the magnetically coupled rotary vane pumps. The operating costs of the magnetically coupled pump are very low, as it is virtually maintenance-free. The DuoLine covers numerous applications in the low and medium vacuum range.

Proven Solutions for Roots Vacuum Pumping Stations

Roots pumping stations are used in low and medium vacuum environments and offer high pumping speeds, especially in the transitional range. CombiLine Roots pumping stations feature a variety of backing pumps,
pumping speeds and accessories. It is the custom solution for such demanding processes as electron beam welding, freeze-drying and simulation chambers. Pfeiffer Vacuum offers a wide range of components that optimize the performance of vacuum processes. CombiLine

™

pumping stations are a combination of individual pumps that can contain the following major components: Roots, rotary vane, turbopumps, dry pumps, liquid ring, cryo and diffusion pumps, measurement and analysis equipment, pumping station control systems and bus interfaces.

Pfeiffer Vacuum, Inc. Nashua, NH www.pfeiffer-vacuum.com Contact: Mark Clement Tel: 1-603-578-6500 or toll free 1-800-248-8254 E-Mail: contact@pfeiffer-vacuum.com

Marathon

®

CP Cryopumps

The Sumitomo (SHI) Cryogenics Marathon

®

CP Cryopumps are an expanding product line available in multiple flange styles, sizes and configurations. With a powerful refrigerator, Marathon CP typically out-performs other cryopumps of the same physical size.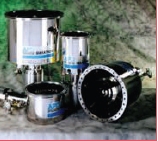 Its innovative design assures that users achieve the highest performance possible, while keeping it competitively priced. The CP-20 can be driven by the high-efficiency F-70 compressor. Like all Freedom

®

series compressors, the F-70 provides refined oil and gas management to the cryopump and offers a unique 30,000-hour service interval. Additionally, the optional Marathon Cryopump Controller (MCC) enables fully automatic operation of the cryopump using commands from a host computer using standard cryopump protocol. The result is greatly reduced downtime between production cycles, improved process times and better overall efficiency of the user's process. The CP-20's compact and robust design fits easily onto and existing systems. It can be readily maintained without breaking vacuum or removing the cryopump from the chamber for return or replacement. Like all SHI Cryogenics Group products, it is supported by a worldwide sales and support network. Its easy serviceability maximizes production uptime and lowers the total cost of ownership.

SICERA

™

Cryopump

At only 0.9 kW per pump, Sumitomo (SHI) Cryogenics recently introduced the SICERA

™

cryopump boasts extremely low energy consumption compared with other vacuum products currently available for semiconductor,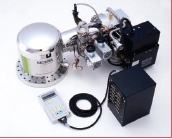 flat panel display and related processing. The breakthrough multipump system allows up to six 8-inch pumps to run on a single compressor without performance degradation, making it ideal for high-volume semiconductor wafer manufacturing. The complete SICERA cryopump system includes a compressor and remote controller, which have been thoroughly tested to withstand the most demanding vacuum applications. Through continuous control of both the cryocooler and compressor, SHI Cryogenics Group is able to offer a reliable cryopump system with solid performance and temperature and vacuum stability.

Sumitomo (SHI) Cryogenics of America, Inc. Allentown, PA www.shicryogenics.com Tel: 1-610-791-6700 E-mail: sales@shicryogenics.com

Dry Scroll, Dry Rotary Lobe, Dry Screw, Magnetic Levitating Turbo & Cryogenic Pumps

SynSysCo supplies products and system design services using Dry Scroll Pumps, Dry Rotary Lobe Pumps, Dry Screw Vacuum Pumps, Magnetic Levitating Turbo Pumps, Cryogenic Pumps, and Vacuum Instrumentation and Components to meet your most exacting dry vacuum pumping applications.

Precision engineered dry scroll vacuum pumps for linear accelerators and cyclotrons, mass spectrometry, electron microscopy, and R&D applications. Process proven dry screw vacuum pumps for handling your most aggressive processes up to 450 mm and your needs in compound semiconductor, OLEDs, LED, and flat panel displays (FPD). Process proven dry screw vacuum pumps for handling your most aggressive processes up to 450 mm and your needs in compound semiconductor, OLEDs, LED, and flat panel displays (FPD). Proven DRIE, RIE, and Mask Etch MEMS applications in Chrome, Silicon, and MOSi create some of the most demanding environments for rough- ing vacuums in the world, LOT Vacuums split dual-helical dry screw vacuum pumps ideally suited for the harsh envi- ronments. Clean, low vibration, miniature to mid-range dry pumps to support the observation, sampling and manipulation of matter on an atomic, molecular, and supramolecular scale. Elimination of hydrocarbons in the vacuum stream improves the effectiveness of vacuum related R&D, scientific instru- ment and nano manufacturing applications.

SynSysCo Montrose, CO www.synsysco.com Contact: Gary Schritter, National Sales Manager Tel: 1-970-240-9429 E-mail: GaryS@SynSysCo.com or sales@synsysco.com

Water Vapor Cryotraps

Telemark supplies water vapor cryotraps in capacities from 1800 to 3600 watts of heat load and 80,000 to 230,000 liters per second of vapor trapping. Fully digitized for easy integration into a broad range of system controllers.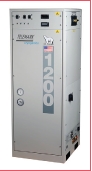 A wide array of user-adjustable controls are built in as standard. CFC-free blends are available to comply with all inter- national environmental standards. TVP units offer smaller footprint and improved access and usability.

Value Engineered Cryotraps

Telemark has recently introduced the models 1200 and 2700 water vapor cryotraps. These units have been designed to maintain a high level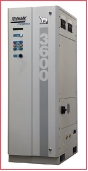 of performance and reliability, while minimizing capital investment.

Telemark Battle Ground, WA www.telemark.com Tel: 1-360-723-5360 E-mail: sales@telemark.com

VD Series Dual Stage Rotary Vane Pumps

The ULVAC VD Series dual stage, oil rotary vacuum pumps with direct-drive motors are designed for use in a broad range of applications including leak detection, helium recovery, fluid fill and vacuum coatings.

These light- weight compact pumps feature low noise with minimal vibration levels. The unique design permits pump head replacement without discon- necting the fore line. The VD series is available in pumping speeds from 288 l/min [10 CFM] to 1800 l/min [64 CFM] with an ultimate pressure of 0.67 Pa (5 × 10

-

3

Torr).

CR Series Dry Vacuum Pumps

The ULVAC CR Series is an air-cooled roots dry vacuum pump. Stable operation and an extended service lifetime are a result of the a completely dry pumping mechanism with no contact between rotor and cylinder.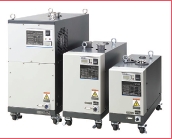 The air-cooled de- signed reduces running costs, eliminating cooling water and nitrogen gas requirements. The lightweight pump has low power consumption and an integrated silencer, mak- ing it very compact. With four models from 280 to 5000 l/m pumping speeds the CR Series is well suited for clean gas pump- ing, water vapor pumping, sputtering and evaporation processes.

GHD Leak-free Rotary Vane Pumps

The ULVAC low cost GHD magnetically coupled rotary vane pumps offer reduced power consumption, quieter operation and a lower running tem- perature. These pumps are ideal for analyt- ical instruments and laboratory use due to their high pumping speed and compact size.

GHD pumps eliminate oil leaks and shaft seal wear. A check valve below the inlet port stops oil backflow, eliminating messy cleanups and downtime.

ULVAC Technologies, Inc. Methuen, MA www.ulvac.com Tel: 1-978-686-7550 E-mail: sales@us.ulvac.com

Model 800-28 and 200-7 Soft Start and Pressure Control for Rotary Vane Pumps

To minimize turbulence and particles during evacuation, you may "Soft Start" your pump down and then switch to maximum speed to give the ultimate vacuum you need. When your system pressure reaches the required vacuum,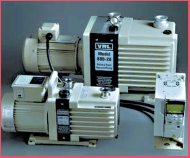 you may want to slow the pump again to perhaps 20% of capacity. For pressure control, just determine the vacuum level that is best for your process and adjust the set point on your vacuum gauge accordingly. The Vacuum Research Corporation pump will then run at maximum speed until that pressure is reached and will then slow its speed to maintain the vacuum you have selected. Adjust the dead band, or hysteresis, on your gauge to give the control range that you need. For roughing with either cryo or ion pumps, you can operate your mechanical pump at maximum speed, or use a Soft Start Program. When the high vacuum pump takes over, slow the mechanical pump to about 20% of capacity and keep it running slowly so it will be warmed up and ready for the next pump down cycle. Or if the high vacuum cycle is very long you may want to turn the mechanical pump off when roughing is complete. Backing of Turbo and Diffusion Pumps Use a single mechanical pump for roughing and backing for turbo or diffusion pumps. For roughing, ramp the pump speed up slowly to minimize turbulence in the chamber. After crossover slow the mechanical pump to perhaps 25% of capacity. If your foreline gauge has a process control relay an unexpected increase in pressure will switch the pump to full speed until the pressure recovers.

Vacuum Research Corporation Pittsburgh, PA www.vacuumresearch.com Tel: 1-800-426-9340 or 1-412-261-7630 E-mail: vrc@vacuumresearch.com

DRYFAST

®

Collegiate Model 2014 Laboratory Vacuum Pump

The Welch-Ilmvac DRYFAST

®

Collegiate Model 2014 Laboratory Vacuum Pump is well suited for harsh chemical fume applications. It is a small, lightweight, oil-free and low maintenance pump with a precision vacuum adjustment feature.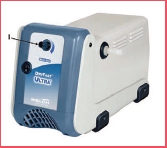 He chemical resistant Collegiate Model 2014 pump is perfect for MeCl2 and other volatile solvent rotary evaporations. Achieve precise vacuum control down to 40 Torr using convenient adjustment knob. The 25 lpm flow enables multi-user use for organic solvent filtrations and other routine chemistry lab operations while enabling fume discharge to your hood. The modern, compact design weighs only 15 lb. Applications include rotary evaporations at 35°C for volatile solvents, vacuum filtrations up to 3 funnels and vacuum ovens up to 1 Cu. Ft.

Welch-Ilmvac Niles, IL www.welchvacuum.com Tel: 1-847-676-8800 E-mail: welch-ilmvac.us@gardnerdenver.com or gdwelchvacuum@gardnerdenver.com